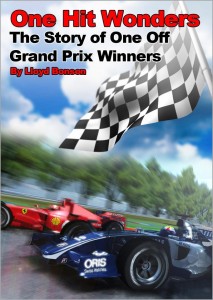 Format: e-book/paperback
Released: December 2011/April 2012
Publisher: Stanhope Books
Lloyd has self-published this e-book about the drivers and constructors that have only won one race in Formula One. It features a biography and racing stats for every driver. The front cover was designed by Kris Kirven.
It is available from Amazon. Don't forget to write a review and check its position in the Kindle Motorsports chart.
If you don't have a Kindle, Amazon have a program to view e-books on your PC.
If you are interested in self-publishing an e-book, have a look at this article by The Guardian for some details.
One Hit Wonders has a Facebook fan page.
For full details, see the Stanhope Books website.