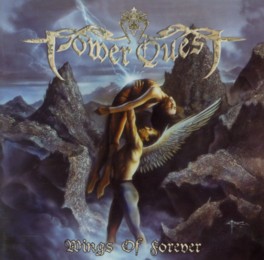 Format: CD
Recorded: 2002
Released: 2002 (CD)
Re-issued: 2006 (CD+DVD)
Track Listing
Prelude to Destiny (Williams)
Wings of Forever (Williams)
Far Away (Williams)
Glory Tonight (Williams)
Power Quest (Part 1) (Williams)
Beyond the Stars (Williams/Totman)
Immortal Plains (Williams)
Follow Your Heart (Williams)
Freedom of Thought (Bickers)
Distant Lands (Williams)
Glory Tonight (Williams) (bonus track on 2006 re-issue)
Follow Your Heart (Williams) (bonus track on 2006 re-issue)
Bonus DVD (2006 re-issue)
"Songwriting" Interview with Andrea Martongelli
Live At The Underworld
"Glory Tonight" music video
"Glory Tonight" out-takes
Photo Gallery
Personnel
Alessio Garavello (vocals)
Steve Williams (keyboards/guitars/vocals)
Sam Totman (guitars/vocals)
Adam Bickers (guitars)
Andrea Martongelli (guitars/vocals)
Sam Scott (bass)
'Scott Michaels' (a drum machine)
Andrea Martongelli (vocals/guitar on 1, 5, 7)
Tina Groom (vocals on 7)
Simon Burrell (narration on 5)
Power Quest's debut album, recorded at Thin Ice Studios, and produced by Karl Groom. Mastered at Finnvox Studios, Helsinki. Artwork by Bruno Farinelli. Andrea Martongelli later joined Powerquest as lead vocalist.
For more information, see the Power Quest website. It is also mentioned on Wikipedia.
In 2006, the album was re-issued with 2 bonus tracks (the Power Quest demo) and a DVD, plus sleeve notes from Adam Bickers and Steve Williams. Controversially, the band photo on the back cover shows the 2006 line-up without Adam!